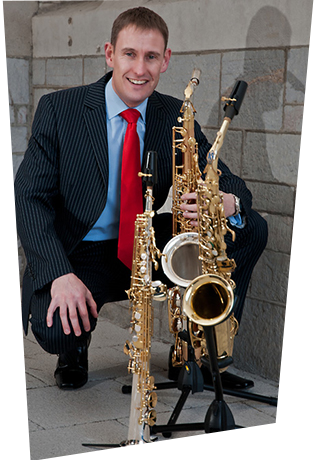 Hello, and welcome to my website…
The following pages will give you an insight into Tim Watson, the past and present music performance, education, and sporting prowess of a dedicated professional and inspirational musician of national and international recognition.
Please enjoy browsing, and I look forward to hearing from you.
Tim Watson was born in Essex and after his early musical education obtained a GCE 'O' level in Music at the age of thirteen. He joined the Royal Marines Band Service in 1989 and whilst under training was awarded the 'Bronze' Medal in the Worshipful Company of Musicians "Cassel Prize" for saxophone playing. His career highlights have also include performances for the Queen on board Her Majesty's Royal Yacht Britannia, a private reception at Windsor castle for the wedding of HRH Prince Edward and Miss Sophie Rees-Jones and the Queen Mother's 100th birthday celebrations. Tim has also conducted on numerous occasions for HRH Prince of Wales, composed and arranged music for BBC and Sky television and radio and was received The Herbert Lott award for outstanding contribution to The Royal Marines Band Service. (More information can be found in his biography)
Tim achieved a Doctor of Musical Arts from the University of Salford in 2012, holds two further degrees in varying musical subject areas, and also five diplomas from Associate to Fellowship in performance, conducting, theory and literature from leading colleges. He is also a Chartered Manager.
Tim's primary instrument is the saxophone, doubling on clarinet and flute; he also plays the violin, as this was his second study whilst in the Marines. As a soloist Tim has performed in some of the most prestigious venues across the world, has toured Europe as a concerto soloist, opened the World Saxophone Congresses at Thailand in 2009 with The Scottish Saxophone Ensemble and then with selected world-renowned saxophonists at St Andrews in 2012. He has recorded on more than 20 compact discs, his solo piano and saxophone recording with John Wilson was recorded at Peel Hall, Salford in 2010. (More information about recordings can be found in his Discography)
In line with his Doctorate of Musical Arts Tim commissioned and worked with leading UK composers on large scale new works, performing their World Premieres across the UK, and continues to commission and perform to a high level. As an educator Tim mentors degree students in performance, composition, theory and events management, he has given master classes, tuition and adjudicated in leading Universities across the UK and Europe, more recently chairing the Rotary Young Musician competition. He is also a contributor to Clarinet and Saxophone and BASBWE magazine.
As a sportsman Tim swam and ran internationally. (More information can be found in his sports page).